Samsung folding smartphone revealed to developers
Samsung has unveiled a folding handset at an event in San Francisco.
It described its Infinity Flex Display as "the foundation of the smartphone of tomorrow" and said it intended to start production within months.
When unfolded, the device resembles a 7.3in (18.5cm) tablet. When closed, a separate smaller "cover display" on the handset's other side comes into use.
Samsung has teased the concept for more than five years and had been vying with Huawei to show off a device first.
However, both were upstaged a week ago when little-known start-up Royole unveiled a foldable phone of its own.
Unlike Royole's FlexPai, Samsung obscured the final look of its device. It placed it in a case to hold off revealing the design until a later event.
It also did not disclose how it will brand the phone.
However, it did reveal that the forthcoming handset would be able to run three apps at once.
Justin Denison, the executive who unveiled the handset, noted that when folded up the device fitted "neatly inside" a jacket pocket thanks to the displays involved being thinner than those on earlier phones.
Unlike the FlexPai, the two sides of Samsung's device lie flat when closed. But this comes at the cost of there being noticeable breaks in its bezel, at least on the prototype demoed.

Shipments of Samsung's smartphones were 13.4% lower in the July-to-September quarter than for the same period the previous year, according to market research firm IDC.
Although the sector as a whole shrank over the 12 months, the South Korean firm still underperformed, with its market share slipping from 22.1% to 20.3%.
But analysts say a flexible phone has the potential to strengthen Samsung's brand and boost interest in its wider family of devices.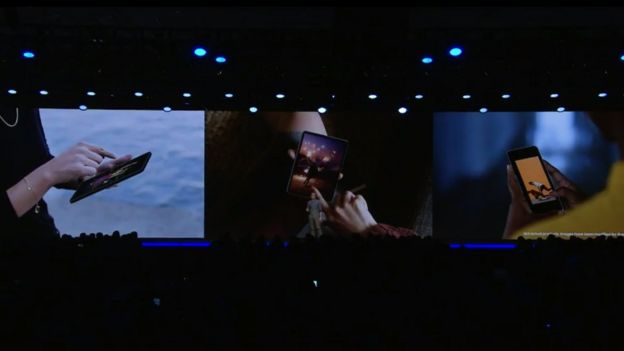 "We've already had squeezable, swivel, clamshell and even foldable phones," commented IDC's Marta Pinto.
"Differentiation is super important. Samsung's smartphone sales are declining as it faces serious competition from Huawei and other Chinese brands.
"If it can bring a new and really interesting device to the market it could be a chance to regain momentum and return to growth."